Registration is open for After-School/Distance Learning Camp for the 2020-2021 school year!
We would like to announce some new changes for this school year! Following the 100% online plan for Fairfax County Public schools, we will be offering full and half-day Distance Learning Camps! These camps will run 7:30 am - 6:30 pm. Students will have opportunities to work on their distance learning work while at camp in addition to daily Tae Kwon Do classes, arts & crafts, and special activities, such as hands-on science projects! We are hiring additional staff to help support our students with the unique learning opportunities this school year will bring. Distance Learning Camp/After-School Program will now be open to 7th and 8th graders. This year will be unique, but we know that our community is up for the challenge! We are looking forward to a great school year with the following modifications:
Distance Learning Camps will replace our traditional After-School Program while FCPS is 100% online. Our program will evolve as the year proceeds, following the schedule of FCPS.
BBA will be open for half and full-day Study camps / daily activities 7:30 am to 6:00 pm.
Additional staff will be available to supervise the computer room while students are doing classwork. Please include your child's schedule for distance learning classes so we can ensure they get their one on one time with school teachers. **Students should bring their own school issued computers and personal headphones**
Daily Tae Kwon Do classes with more than enough space for social distancing. Socks, mat socks, or sparring shoes will be worn during class. Uniforms kept in cubbies as always, to be taken home every Friday to be washed.
New tuition procedures: 30-day written notice for cancelation of enrollment. Billing will occur on the first of the month. Tuition will include teacher work days, Distance Learning Day Camps, and daily Tae Kwon Do classes.
Above all, BBA has taken extra measures to keep the school clean and sanitized throughout the day. Keeping our students safe and healthy is our top priority! We are asking all students to have a mask and to wash/sanitize their hands frequently while here at the school.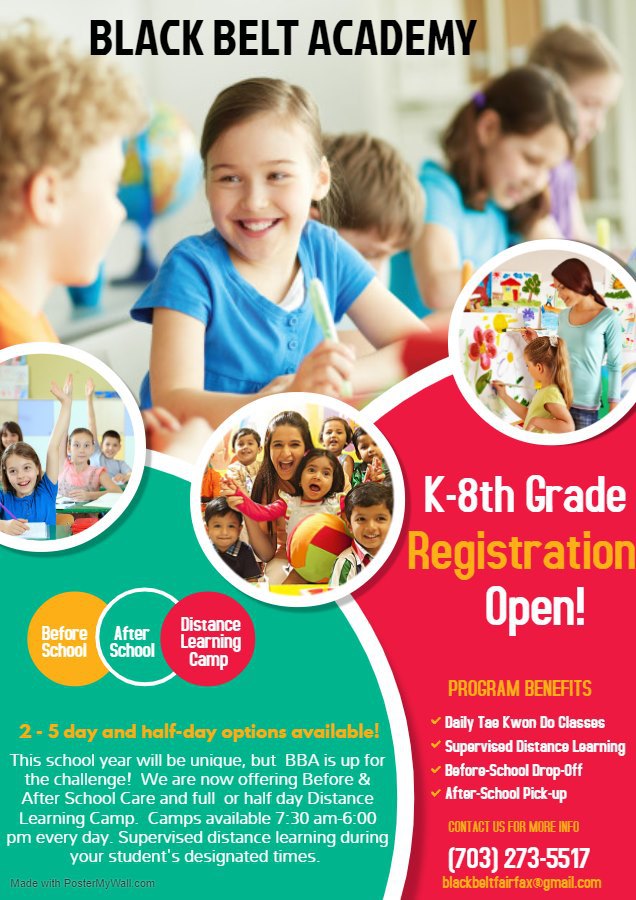 Elementary Schools we pick up from:
Fairfax Villa
Oakview Elementary
Laural Ridge
Fairview
Bonnie Brae
Olde Creek
Terra Centre
Gesher
White Oaks Elementary
Willow Springs
Union Mill Elementary
Schedules
Schedule distance learning camp
Send your registration forms now at blackbeltacademy@gmail.com
DOWNLOAD HERE
AFTER SCHOOL PROGRAM BROCHURE
CLICK HERE TO DOWNLOAD
AFTER SCHOOL RELEASE FORMS